"Best": Inside Utopia
Abstract
The following paper describes one of the highly regarded projects from a seminar which invited students to intervene inside a conceptual site: Archizoom's No-Stop City.[1] The evaluation of the best student work valued conceptual rigor and a critical engagement with disciplinary discourse, as much as technical competence, such as skilled spatial manipulation, visual proficiency and exceptional craft.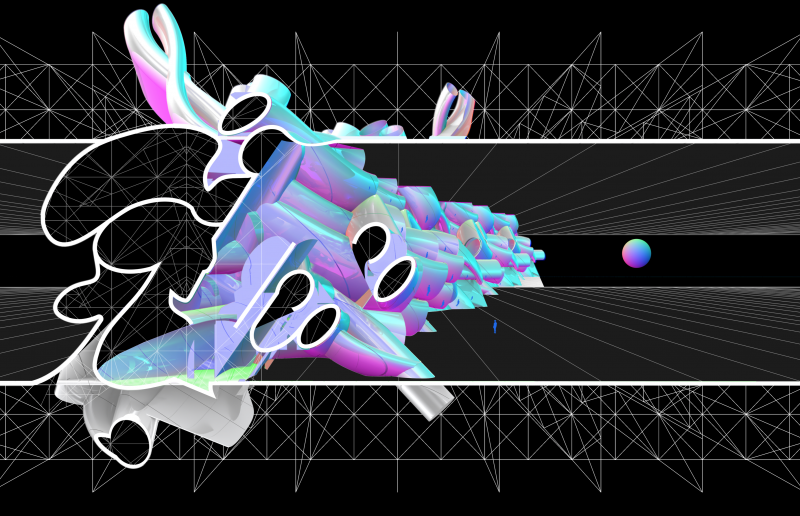 Beyond a project's formal inventiveness, technical achievement, exceptional craft and aesthetic rigor, the best student work understands design's broader societal implications, how design reflects social and cultural structures and, at the same time, how design inevitably contributes to the production of new social and cultural orders. In the words of Beatriz Colomina and Mark Wigley: "Humans have always been radically reshaped by the designs they produce".[2]
"Inside Utopia"- the title of an Interior Design seminar taught in the Spring 2019 at The University of Texas at Austin - utilised the dystopian background of Archizoom's No-Stop City as a frame for discussion. The course was open to graduate students from Interior Design and Architecture backgrounds. The class was attended by eleven students; three MID students and eight from the MArch. Archizoom's infinite interior was used as a conceptual site of intervention. No-Stop City portrayed the future of the capitalist metropolis as an endless supermarket, an infinite urban interior. The dystopian project was not an alternative to reality but an amplification of existing conditions, an endless multiplication of a standard 15' x 15' supermarket grid of columns that they referred to as a "quantitative utopia"[3] - an inescapable isotropic field. Utopia has often been used by designers as a vehicle to confront the status quo. From a pedagogic perspective, utopia serves a primary goal of design education; it is a provocation to engage in critical consideration of the present, question our rapidly changing environment and to engage with a somewhat unpredictable future. Projects in this course were measured against these factors.
Via readings, lectures and in-class discussions, during the first half of the semester, students were introduced to a selection of seminal experimental projects from the last decades that challenge conventional notions of interiority. Weekly reading discussions revolved around the ideas behind these utopian projects. In-class conversations focused on how the authors of these unbuilt projects had addressed, through design, some of the major disciplinary preoccupations of our time. Special emphasis was placed on analyzing the way these ideas were presented via drawing and writing. Students reflected on the author's writing style and tone, from the unpretentious, poetic and nostalgic tone of Ugo la Pietra, to the casual, yet critical irony of Banham's A Home is not a House, Archizoom's politically charged writings in the form of verbose manifestos and the captivating fictional narrative of Koolhaas' Exodus among others. Simultaneously, students scrutinized visual media choices, graphic register and technique for each of these projects and its role in the delivery of information.
The second half of the semester students developed their final assignment; they were asked to critically react to the conceptual framework of No-Stop City in order to construct an "augmented" No-Stop City narrative of their own with a corresponding new drawing of Archizoom's canonical section perspective. Writing and drawing were treated as generative design tools and instruments of individual investigation and experimentation. The final submission included two complementary outcomes: a brief text component and a drawing. Projects judged to be of First Class standard developed ideas simultaneously on these two fronts. The evaluation of the work took into consideration how students were able to transfer and apply the lessons learned during the first half of the semester to their active consideration of No-Stop city.
Most students exhibited a certain reluctance to critically engage with the precedent, given its high stand within disciplinary discourse. However, the best projects, such as architecture student Richard Gagle's Strange Provocateur, overcame these design inhibitions, were unapologetic and demonstrated a clear conceptual understanding of No-Stop City. Inspired by the unsettling use of mirrors from Dan Graham's Alteration to a suburban house (one of the unbuilt projects that we learned from at the beginning of the semester) Strange Provocateur radically interrupts No-Stop City's infinite homogeneity with a mirrored surface. Spatially, Richard's proposal reacts to the horizontal nature of No-Stop City which prevents its inhabitants from grasping its real nature. Unable to ever see the totality of the space from afar, or from above, No-Stop City dwellers are only partially aware of their reality; they are always immersed within.
According to Richard's text: "A ripple has appeared in Archizoom's quantitative utopia which grows vertically and breaks through the infinite ceiling...The polished surface holds a mirror to the conditions of No-Stop City". This engaging fictional narrative is described as fact in the present tense in an homage to Koolhaas' Exodus. Richard explains how Strange Provocateur's warping mirror surface multiplies the spatial conditions of No-Stop City "magnifying the sense of sameness across this interior world of seemingly infinite opportunity, making this consumerist dystopia seem even bleaker". His play on bending reflections, enabled by dexterous geometrical manipulation and material representation, re-frames and distorts that which is familiar onto that which is strange - seeking to provoke alienation and, subsequently, behavioral change by forcing recognition in the observer.
Besides its conceptual grounding, Richard's drawing technique is refined and portrays the mastering of several software tools. His use of colour contributes to increasing the desired estrangement of the observer - both the lonely figure in the image and us, the actual observers of the drawing. Overall, his project successfully synthesizes theory and design skillfully fusing visualization and argumentation in the design process.
Other exceptional projects in the class included Alexandra Sandlin's (MID) Beyond the Heavens, Robert Anderson's No-Stop Energy (MArch), Megan Baker's(MArch) Natural No-Stop and Marek Harrison's (MArch) No-Stop System. Like Gagle's, these projects combined theoretical understanding with technical finesse. These students managed to arrive at an original and convincing spatial narrative, that emerged from the ideas discussed during the semester through precedent study, and that was eloquently manifested both through discourse and drawing.