About
The competition is open to all members of the Interior Educators national subject association and is for final year students of all undergraduate interiors and spatial programmes.
The award is for the most innovative, comprehensive and well communicated final degree studio project.
The 3 winners are:
1st Place - Laura Metcalfe - University of Westminster
Very atmospheric project. Good presentation. Some good research. Well-developed sense of work from idea to concept. Worked well with the existing building. Enjoyed the project very much. Very architectural project, more than interiors. Projecting theatre idea was very strong. Good starting point for the project. Atmospheric and powerful. Loved the atmospherics of the project and theatricality of the project. Back box over the canal is innovative. Loved the presentation. Seduced by the visuals, liked the concept and the quote starting point. Playful ness and flexibility is powerful. Reprogramming the interior is good. More resolved to be winner. Less romantic idea, better presented. More technical detailed thinking than others. More resolution in project. Adapted to context and awareness of the existing building and the repercussions of working with what is there. Important message for future winners. Kisho Kurukawa quote was an excellent starting point.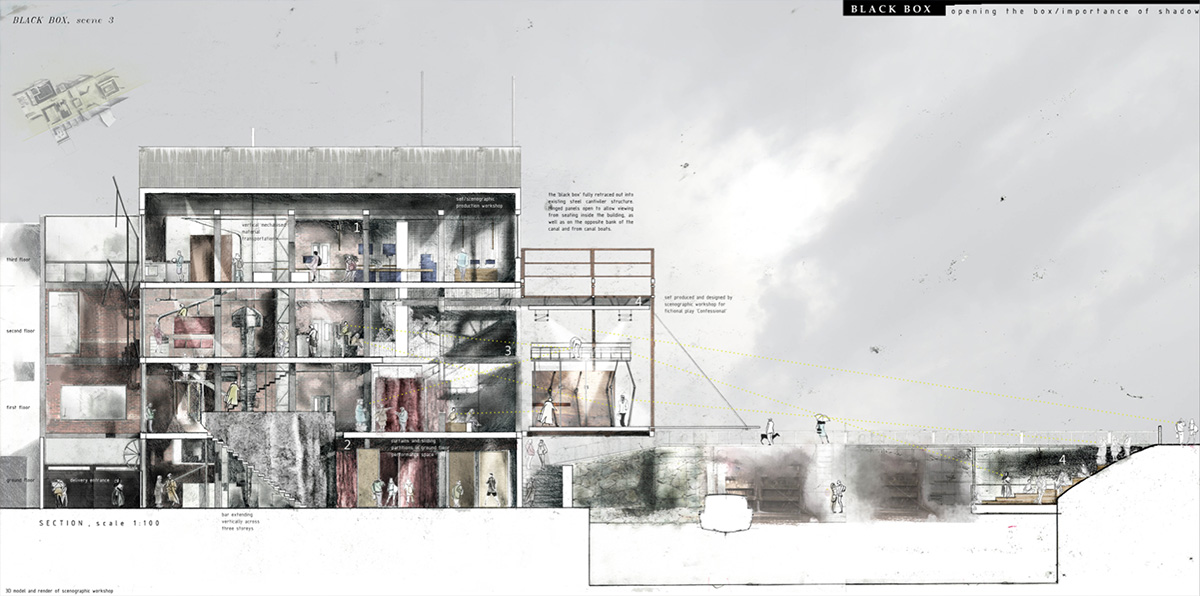 2nd Place - Evangeline Martin - Leeds Beckett University
Beautiful and poetic and original. Research is very beautiful. The ideas were very strong. Presentation is very strong and the dream quality is stunning. Memorable imagery and the sense of claustrophobia are powerful. Planning is very powerful and the section is very memorable. The scales are well controlled. Evocative spaces and imaginations were captured well. Project was challenging the conception of Interior design. Adventurous and ambitious. Lots of conceptual ideas not always resolved but the atmosphere is conveyed excellently. Good connectivity of the place, idea and space. More detailed exploration of the journey and spaces, grounding its esoteric qualities, required to make it a winner.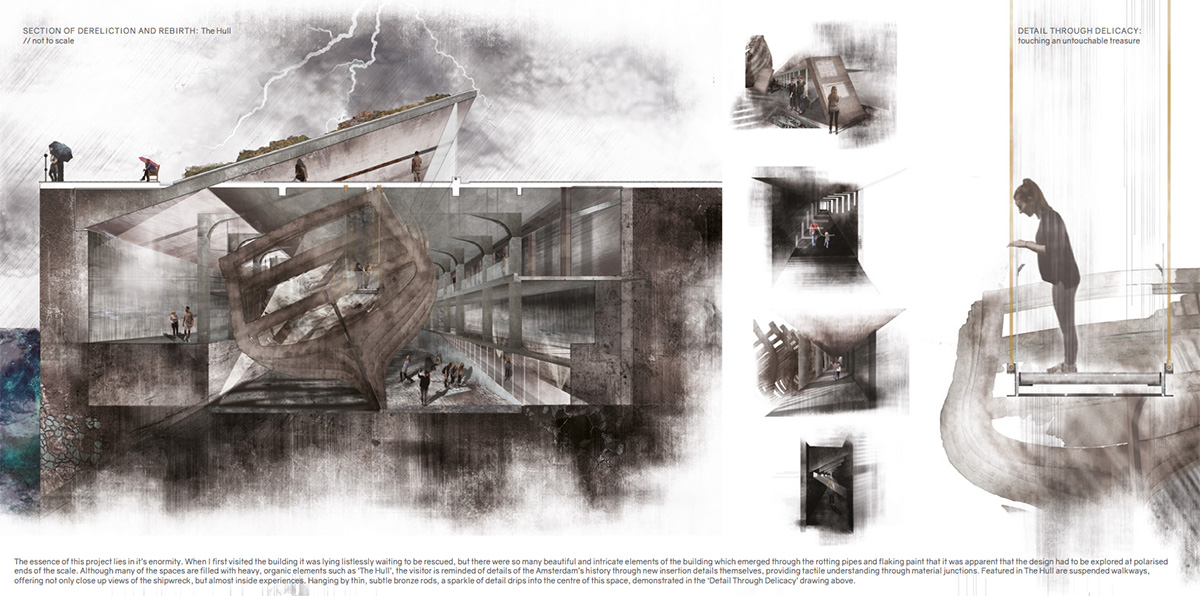 3rd Place - Aime Vantonme - De Montfort University Leicester
Impressed at the ambition and the location of the project.
This was a consistent project, well communicated and takes you through a narrative. Visually engaging. Good thinking cross the range of assessment criteria. Systematic but not boring. Very contemporary in the way that the overlooked spaces can now be reused. Technicalities to be resolved, spaces are possible and believable. Energetic and dynamic and showed a good grasp of urban planning and was well contextualised.